Last Updated: 17 September 2018

17 September 2018
April 28-29,2007 Outing Report.
Yellow Creek


The Yellow Creek Trout Bums
Dennis Covert, Ken Bowyer, Jim Keil, Tim Bowers, Jim Feudale, George Vincent, and Art Friedlander
Pulling away from the gas pump at the Sheetz station in Breezewood, Tim said; "hey, isn't that Art Friedlander getting into that car over there?," "Yep". Pulling up along side it took Art a second to recognize us before rolling down his window saying he'd follow us. I was glad we bumped into Art since I thought maybe I had given him the wrong directions out of Breezewood. At least this way if we got lost we would both be lost together.
Turns out my interpretation of Jim's directions were good enough, and a few minutes later we pulled into the parking lot at the Juniata trading Post. Jim Keil and Ken Bowyer were already there waiting on us, slouched in Jim's van they were sipping coffee and eating their breakfast out of a bag, both looking a little tired. Ken and Jim went up on Friday a day earlier, Ken saying it had been a short night getting in late after a sulphur hatch kept them on the water casting flies to rising fish till darkness drove them off. They may have been tired but it looked like a happy tired to me.
Within minutes Jim Feudale, with George Vincent riding shotgun pulled in and after some hand shaking and how ya doins, we all piled back into vehicles and headed for the crick.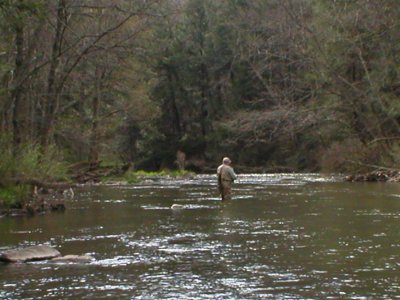 Yellow Creek is beautiful! It has great access from a well-kept parking lot and a walking trail along the bank just inside the wood line with observation benches placed at the pools. From the parking lot going up stream the creek hugs tight against a ridge on its left bank that gradually sinks down into a cattail marsh loud with nesting geese. Then, a half-mile further up the ridge raises again over on the right bank at a great hole called Red Bank. Yellow Creek is a good sized piece of water with a catch & release fly only section of about a mile containing a series of excellent pools with mysterious names like The Molly Gordon and School House, Names that kept me wondering just how they came to get them. Who is Molly Gordon? The rest is pocket water with slicks and runs that in a few places back up behind deadfalls forming back eddies twisting with floating with bits of debris and dirty foam.
The weather was a little cool on Saturday with air temps around 52 degrees at 9am. The Sky was overcast with occasional sprinkles, so, in other words almost perfect.
Getting geared up the guys wandered off in ones and twos, me bringing up the rear. I caught up with Tim at the Molly Gordon where he was getting all his firsts out of the way right at the beginning. At his first pool Tim hooked his first fish on his first cast then had his first dunking wading back across the pool after trying to get the fish off a snag, thus requiring his first change into dry clothes. Hey, no sense dragging things out, and from the bend in the rod it looked like a really good fish too.
As the morning progressed we were all picking up fish here and there (photo of one of Tim's) on wets and nymphs while flies in increasing numbers began to appear. Hendricksons, crane flies, blue quills, tan caddis, black caddis and olives in two sizes. By early afternoon there were a lot of flies coming off and a lot of fish rising to them. Fish would stack up in runs or hug the bank and make splashy rises to something nobody could quite figure out. We had fish rising right next to us and couldn't see anything at all on the water, then they would turn off completely only to start up a few minutes later. I did see a fish chasing a crane fly but there were a lot of rises right next to us where no crane flies were present. We often couldn't see any bugs near a rise, and even though the rises were splashy the lack of visible bugs led some of us to believe it was emergers of some kind the fish were taking.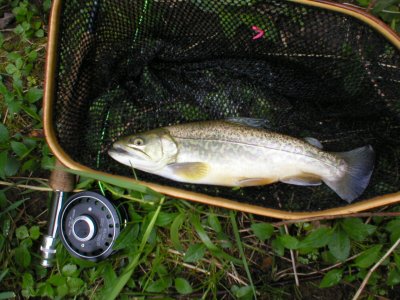 Mid- afternoon found Jim Keil, Art and me taking up stations in Red Bank pool. Exasperated with dries I gave up and put on a hot pink San Juan worm taking my first ever tiger trout, a 10 incher whose stripes under my amber lenses seemed to glow. It was about then that Jim Keil's words of "he came for it" "He was there" and Art's low bursts of ooh! Ooh! Damn! Aahh, crap! Oh yeah! That gradually began to register with me that Art was boarding the dry fly Zen train. First he caught one, then a couple more, and then pounded fish until we left in early evening. The mystery was, the # 20 black midge he was fooling the fish with wasn't buying me or Jim a look. Jim got creative and began taking a few after clipping a Griffiths Gnat down to make it ride more flush. I finally gave up on drifting flies at the head of the pool, the fast water between me and the eddy was grabbing the leader, and crossed the creek to fish it from that side. There I took two, one on a midge, and the other on a black caddis in an eddy behind a sunken log. I lost sight of the flies both times as they drifted amongst the slowly twisting foam and didn't realize they had been sucked under by the fish until I raised the rod because something just didn't seem right.
As evening came on we wandered back down to School House pool in hopes of another sulphur appearance. Ken, already there, said it was cooler than it had been the evening before, and we saw no sulphurs, however there was a smorgasbord of mayflies, crane flies, midges, and caddis on the water and fish were rising everywhere. Jim Feudale, who was at the downstream end of the pool gave us a Yellow Creek fishing lesson taking three drifting a size 18 three hackle dry tight against the bank, while Ken and I dredged up one a piece on nymphs. Then, cold and more than a little hungry we decided it was time to head to the big city and slip on the feed bag. On the way back to the truck Tim said he took five on a #18 BWO parachute with a white wing post concentrating on pockets of slower water, the only instance I know of anybody catching multiple fish on a BWO even though they were present all day.
At the diner in Breezwood we invoked the 100-mile rule, meaning, if your 100 miles or more from home on a hunting or fishing trip, there are no calories, and there is no cholesterol. Our waitress, who apparently isn't fluent in Iowan, soon decorated our table with a heaping plate of Nachos dripping with cheese and onions', and soon after that came Philly cheese steaks, double burgers, and mountains of French fries.
Back at the house we lounged around relaxing, some sipping scotch, beer, or enjoying a cigar, and talking fishing until the sand man broke up the party.
Sunday morning on the way to the creek we stopped at the Country Kettle. The 100 mile rule still in effect we fed up on eggs pancakes, sausages, home fries, and washed it all down with coffee laced with cream. The sun was out and warmer temps in the offing. I worked my way up to the School House pool fruitlessly drifting an elk hair caddis in some likely looking pocket water. Moving in the pool I was soon joined by Jim Keil and Art. Art quickly hooked and landed a couple nice fish at the head of the pool then bid us farewell to head up stream. Jim cracked the code first taking three fish on a crane fly larva nymph, one a beautiful 16+ inch brown that I believe was the largest fish landed on the trip. Being crane fly larva-less, I tied on# 14 Hare's Ear and hooked a large rainbow on my first cast with it, he was on long enough to get the rush that ended with him slipping the hook when I tried to horse him away from some submerged brush. The next few casts produced two more, a bow and a brown, and then they just turned off. Ken showed up about that time and reported that Art was at it again up above; we told him we weren't surprised, as Art was just at it again down here only a few minutes ago.
It was around noon when Art (photo of Art's Brookie) came by and said he was headed out, so Jim and I walked back to the truck to see him off and eat our sandwiches. After Lunch it was starting to warm up but still not uncomfortable. The sun was full on the water now but we were still picking up a fish or two on nymphs. Jim & Jim decided to amble up to Red Bank so I said I'd see them later as Tim and I were planning on heading out around 3pm. I picked up another on the Hare's Ear around 2:45 and decided to leave on a good note. As I started to turn around to wade to shore the rock I just stepped on turned out to be one of those guys that just can't seem to quit teetering no matter how you shift your weight. I tried to recover doing a little mid stream shimmy dance, then fell straight down hitting my knee on the really hard rock next to the one I just fell off of. My first thought was no way could anything hurt this much without having broken something. The only thing that kept me from screaming was all the air I was sucking in trying to get a grip on the pain. Luckily, I'm blessed with tough Knees so it's just a little sore with no swelling. And yeah, I had my staff out but when things all turned to crap, that staff didn't help at all, well, maybe the staff kept me from pitching foreword and conking my noggin, who knows. Jim warned us these rocks are slick, which in my case equates to; slick rocks + clumsy man sooner or later = I fall in staff or no.
I didn't ask anybody for fish totals but we caught a lot of fish considering how fussy they were. I lost count but I think I caught a dozen or so and I was no where near top rod (Art out-fished us all by a long shot). There were a lot of bugs out to keep it interesting if not a little exasperating at times, and the weather cooperated for the first time in quite awhile. I want to thank Jim Feudale once again for his generosity in hosting the outing. He was a gracious host and great guide. Thanks Jim!
Dennis Covert
Outings