Last Updated: 22 September 2018

22 September 2018
Casselman River, Maryland, April 26-28, 2013 Outing Report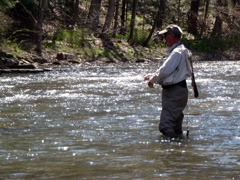 Carl near Cabins On The River
Participates: Lou Reichel, Bob O'Donnell, Carl Smolka, Dave Simms, Doug Portner and son Connor (age 14), Ken Bowyer, Tim Bowers, Dennis Covert, Joe Robinson. Also making their presence were Nick Weber, Charlie Gelso and Diane and Hank Black.
Most people stayed at the Casselman Inn in Grantsville, MD. Friday and Saturday where beautiful days, sunny with temperatures between 50-60 deg F. The water level appeared good, but I did hear some remarks from other fisherman that the level was low for this time of year. Lou met up with Carl and Bob at the Casselman Stone bridge Friday morning and Carl started off with catching the first trout with a wooly bugger right under the bridge. All three moved down stream to the "swimming hole" and then all the way down to the "Cabins On The River". Bob and Carl again catching some trout on dries and underwater flies. Dave Simms arrived mid morning and later all drove down stream (north) to the Farmers Lane just shy of the PA border. The Casselman River is Maryland's only trout stream that flows North.
There are Amish farms along the way and we had to watch out for chickens and roosters on River Road that runs along the River all the way to Pennsylvania. Amish school kids also walk down this road so one needs to be careful of kids and farmers with equipment like the large manure spreader pulled by 2 big horses that took control of the road.
| | |
| --- | --- |
| Dave at Farmers Lane bridge holding trout | Carl and Bob just above Farmers Lane bridge |
At the Farmers Lane all caught trout on dry flies such as sparkle dun, elk hair caddis, midge, ant patterns, and wet flies, steelhead egg patterns, green weenies, Jim's Honey Bug, San Juan worms, Walts worm and wooly buggers. White wooly buggers seemed to be the best fly. Bob and Carl found some trout active on top in shallow water neat the edge of river under some brush and they played with them with dry flies. Later Bob found a productive run near the PA line and caught some 16-18 inch rainbows on the white wooly bugger. Lou reported that he caught, just above the Farmers bridge, a palomino trout of about 14 inches on a dry fly that was even more special because he tied it himself (caddis of dark peacock body and deer hair wing), and if anyone knows Lou's tying skills, that is something. The Mother's Day caddis hatch started around 4-6 pm. It was very heavy, a blizzard of flies with dark grey-black bodies and mottled wings, most carrying a dark green-grey egg sack. The flies varied in sizes from 14-16, maybe a 12. At some points a midge hatch appear just before the caddis. There was very small surface rises with such a large hatch. It was postulated that the water was still too cold or that the females have not yet displaced their eggs so the fish where not active yet until the females found a male.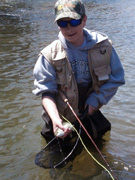 Conner with first trout on dry fly
Doug and his son Conner (age 14) showed up sometime on Friday afternoon and fished near the steel bridge on River Road. Conner caught his first trout on a dry fly!! Congratulations!! Conner also caught a brookie.
That evening we all ate at the Casselman Inn Restaurant. Nick was able to obtain some flies tied by Charlie Gelso and was sure proud of those flies. Leaving the restaurant and showing off his flies on the way out, Nick dropped them on the rug at the checkout line, and several grown men were on all fours looking for these flies in the rug. I am sure the people in the restaurant must have thought someone lost a contact lens or a major medical device. The flies where found and safely placed in a napkin. Nick was not seen for the rest of the outing so we don't know if he caught any trout with his new flies or if the napkin with the flies got thrown away.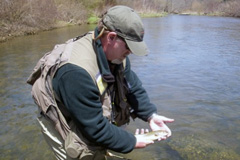 Bob with another trout
Leaving the Casselman Inn after breakfast Saturday morning I headed out to another beautiful day, the sun was shinning and it wasn't either too cool or too warm. A thick caddis hatch started in the morning around 9-10 am, and as the previous day, there was little surface activity for such a great hatch. Dennis and Joe who just arrived that morning quickly got into some trout just below the Casselman Stone bridge. Both dry flies and subsurface flies were used. The typical mottled Mother's Day caddis imitations weren't working, nor the Henryvilles, but after Dennis spotted a silver grey looking caddis coming off, and just happened to have some light grey bodied caddis with light duck quill wings and medium dun hackle in a #14 in his box, tied one on the line. The trout pounced on them as soon as offered and landed several fish before the hatch ended about 30 minutes later. I've been wondering if anyone else saw any of these silver looking caddis?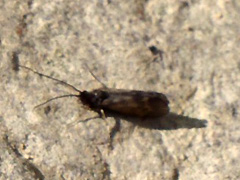 Mothers Day caddis
On Saturday everyone was spread out all along the river from the PA line up to the I-68 overpass. Bob and Carl went back to the Farmers Lane and Carl also used his Tenkara rod catching trout on a wet fly, an ant and elk hair caddis and then with his 10 foot 5 wt rod was able to catch a brook trout. Bob also caught some brookies near the PA line. Ken and Tim also arrived Saturday morning and went to the Farmers Lane catching dozens of trout on a Stud (bead head nymph that looks like similar to a hares ear), simple 3 hackle, daddy long legs, black caddis and a red ant. Dave Simms caught a few trout at the handicap area. He also may have been waiting for the hotdogs from the TU Nemacolin Chapter. That Chapter was holding a stream clean up and putting on a lunch afterwards. Caddis hatches occurred sporadically all day and towards evening. Again all reported catching trout on dries and subsurface (again white wooly bugger seem good). Ended the day with dinner at the Casselman Inn.
Breakfast Sunday morning was at Burger King which was not as good as the Saturday breakfast buffet at the Casselman Inn. The Casselman Inn Restaurant closes on Sunday. Sunday morning was overcast, chilly and rainy. Most stayed within the area between the Casselman Stone bridge and steel bridge on River Road. We fished in the morning and again all reported catching trout with dries and subsurface flies. By 10 am -12 noon, rainy, all quit and headed home.
Lou Reichel
CHECK OUT THIS GREAT VIDEO BY RON BROOKS FISHING THE CASSELMAN RIVER
Thanks Ron!