Last Updated: 06 September 2018

06 September 2018
January 2010 Outing Report.
Yellow Breeches, PA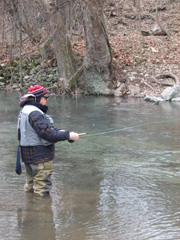 Clif Rice
Turning on to Bucher Road at 9:30 on the dot, the thermometer on my truck's rear view mirror read 15 degrees. Will Amland and I pulled into the parking lot at the run just long enough to tell Cliff and Adam Rice and Lou Reichel we needed to bop down to the fly shop in Boiling Springs for a minute. On the way back up the hill from the shop I noticed it had warmed up a degree, and told Will at this rate the birds would be singing and the flowers blooming by lunch.
In our absence Kevin Brown arrived making us half a dozen. There had been some wind on the way up but it was still in the parking lot, a quiet cold, which once out of the warmth of the truck cab crept into me quickly making me hurry to pull on layers fleece and an insulated jacket.
The guy at the fly shop said the stream had been stocked the week before, but a quick check under the bridge and by the picnic area showed no sign of it. Earlier, crossing the main stem off route 174 on the way up the creek was running high and a little off color, but here in the run the flow was perfect and gin clear. Prospecting, Will and I walked up to the outlet, he on one side me on the other, seeing no fish in the froth I slowly made my way downstream peering through the water looking for holding fish. Halfway back down to the picnic table I saw a fish gulp something off the surface then settle back just in front of a rock. All the clothes felt a little clumsy but I managed to maneuver into position, two casts later I wrapped the entire ensemble of leader, tippet, and fly in the branches above. Fixing this required taking my gloves off and re-tying the loop connections to leader and tippet, then tie another bead head Prince nymph, a bit of a challenge when cold fingers don't do what their told.
Fly on and back into position, I switched to an across the body cast and waded a little closer to the far bank with each cast to adjust my drift. He didn't take until my drifts were almost sucked into the debris close to the far bank. The indicator bouncing through the little chute of water between rock and bank just stopped, I raised the rod and he was there. He felt big from the hook set and took off about 25 yards upstream stopping behind another rock. I followed winding up line sure he had snagged me up and pulled free, but he was there, just holding in the slack water at the base of that rock, then shooting back into the current after seeing me. It was a good fight that ended next to the log stream preservationists had placed to block erosion. The current is faster on that side of the stream creating a little trough with an undercut that he kept ducking under me thinking every time he would snag on something, but every time I pulled him back out, finally putting enough pressure on him to raise his head to the surface. I was a little surprised at how big he actually was, sporting bright rose colored gill patches on a large head. I was trying to slide the net under him but the rocks and current were working against me, and the fish managing to stay partially submerged under the lip of that log. As I put more pressure on him to pull him out I remember thinking what a great first fish of the year and picture this is going to make when the fly pulled out. I tried to block his escape and scoop him up with the net at the same time, and for a moment thought I had enough of him in it to land, but in the end all I came up with was cold water. A guy fishing below yelled, "Did you get him?" Cussing a little under my breath I said "Nope, I thought I had him, but the fly popped out and he got back under that log". "Well, it was close enough to say so" he said. "Yeah I guess", I said. "But I'd really liked to have had the picture."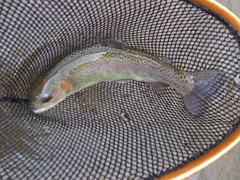 Rainbow Adam Rice Caught
Moving on down the creek I came across Kevin who said he'd just hooked and ldr'd a fish on a Prince nymph, so my fish wasn't just a fluke. Walking all the way down to the last big pool before the run dumps into the main stem I found Cliff and Adam. Adam already had two fish to the net, both on Pheasant tail nymphs. Proof that cold as it was the fish were active. I watched them fish for awhile and could see several trout flash on the bottom of the pool obviously grubbing for nymphs.
Moving back up the creek a few yards I found a couple fish holding in a run, but trying to strip off some line to make a cast I found the spool had frozen and wouldn't move. At first I thought I must have gotten the reel wet trying to land that fish, but later decided it was just the wet line freezing together. I finally got it to break free with a little tugging and was back in business, the clicker not working again until it thawed out in my basement. First cast the smaller fish grabbed my strike indicator, and again a couple of drifts later, so I tried a chartreuse sucker spawn fly which did induce a couple chases but no commitment.
Out of the corner of my eye I noticed a little feller of about ten or eleven creeping in over my left shoulder armed with a spinning rod rigged with one of those soft minnow type lures. He had also noticed the bigger fish, and after leaning against a tree for a couple minutes watching me strike out asked, "Sir, can I try for that big one once?" I could feel the question coming before he asked and said "yeah sure, go ahead, give him a try". First cast he plopped the minnow right on top of the largest fish sending him and all the smaller trout skittering for cover in the deeper pool below. Watching them go, I said "Well, I think I'm gonna head to the truck for lunch", him moving past me into my spot while giving me that smile only a kid can pull off. Walking back up to the truck I checked all the water in that part of the run again but spotted nothing. After my sandwich I ran into Will, him asking if I found any fish below. I said "yep, but they got em surrounded". But finding nothing in the upper section we decided to head on down anyway.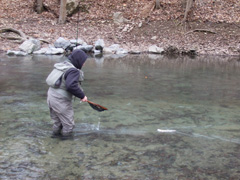 Dennis Landing a Fish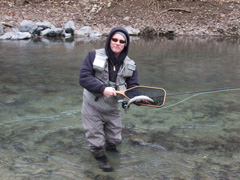 Dennis and a Rainbow
Just as I expected, two fishermen were in the big pool, but as I got closer one guy just up and left, me wasting no time moving in to take his place. For the next hour or so I fished to the largest pod of fish I had seen all day. After thirty minutes I gave up on that Prince nymph and took Adam's lead tying on a Pheasant tail. Drifting it through those flashes close to the bottom produced only nervous movement on my indicator but after a couple drifts and no solid takes I finally wised up raising the rod to solid hook ups. Within 10 minutes I landed two chunky trout, a Rainbow about 13 inches, and a larger brown that would have filled my 15 inch net had I used it.
Then that gulping started again, two or three fish rose minutes apart in little splashes but I couldn't see anything on the water or in the air. I bent low and studied the film but not a clue. A #14 grouse and herl brought nothing, and neither did a smaller soft hackle in #16 dressed with red floss and starling. Not a look. About that time, Will, who was fishing just above me slogged out onto the bank looking a bit chilled. I asked if he had had enough, him saying he thought so. It was going on 2pm by then, so relinquishing my spot to the next waiting angler we headed up the path. Touching base with the others before leaving I told them we were headed for the diner just south of the 15-174 intersection for hot coffee and some soup.
As we tore down our gear Will discovered his reel seat was frozen, and the first wet flakes of snow splashed against the black bed cover on my truck. Starting the truck the thermometer said 22 degrees, us noting that it was just as the weatherman said, but pulling away from the high bank and out on the road it quickly dropped back to 18, so not sure what the actual high temperature was. Ironically, pulling off our waders and putting on our street shoes which had been left in the cold truck had our feet frozen more on the ride out till the heater kicked in than they had been all day.
In the diner over a bowl of steaming chicken tortilla soup, I overheard the people at the next table say Maryland already had 6 inches of snow and it was heading this way. Watching the flakes swirl in the parking lot outside our window I thought to myself, you're too late old man winter, we've done the deed.
The next outing is to Big Hunting Creek February 27th. The small black and larger brown stoneflies should be on then, so, let's hope for some sunny 50 degree weather. But if its 10 degrees with blowing snow and a chilling wind lets go anyway!
Dennis Covert
Outings