Last Updated: 17 September 2018

17 September 2018
June 9-10 , 2007 Outing Report.
South Branch of Raritan in Ken Lockwood Gorge
I left Friday morning to drive up to Clinton, NJ for the weekend outing on the South Branch of the Raritan at Ken Lockwood Gorge. I was in need of a new fly line and the Yellow Breeches Outfitters carries the Airflo Fly Lines that I like so I stopped there on the way up. You can't go to Boiling Springs without fishing the Yellow Breeches so I tried black ants, griffith gnats, and sulphur emergers for about an hour at the Run only producing several swipes at the black ant. The brief time I was there, I didn't see anybody land a fish. I also stopped at the Little Lehigh in Allentown and fished it for about an hour landing 1 brown on a #18 sulphur dun and producing many lookies and rejections to it and a #20 griffith gnat.
After checking in at the hotel and getting something to eat, I went to the northern entrance to Ken Lockwood Gorge only to find the access road closed because it had been washed out from a previous storm. I got directions to the southern entrance and proceded to the middle section of the South Branch of the Raritan River to observe the "evening" hatch at and around the Trestle Bridge where I would be meeting Bob Dietz on Saturday. The river was much lower than last year but several fisherman I talked to said "some" evenings were producing good sulphur hatches. I observed the evening hatch activity for about a half hour from 8:00 until 8:30. I saw some rising fish but I couldn't see what they were rising to. There were a few sulphurs and light cahills in the air, and I saw 2 fish landed by two different fisherman during that time but it looked like the fishing was tough.
Saturday morning, I arrived at the stream about 9:00 AM and was surprised that there weren't more fisherman on the stream (especially since this was the fish for free weekend - no license required). I fished for about 3 hours observing some caddis, midges, and a few march browns hatching. I saw occassional rising fish but could not interest them with various caddis, sulphur, and midge patterns. I did produce some swipes at a black ant. For a short time when I observed a fair number of march browns, I tried a combination march brown dun and wet fly but never produced a strike or a lookie. At noon, I decided to quit for lunch and go back to the hotel for a nap. When I got back to my vehicle, 2 fisherman were just leaving and I asked a 3rd how he did. He turned out to be a local guide (John P. Heaney, 908-310-4832, This email address is being protected from spambots. You need JavaScript enabled to view it.) and the 2 fisherman who had just left were his clients. They had caught 22 fish between them during the morning. I asked what they were using and he gave me 2 LaFontaine emergent sparkle pupa flies and explained that they were fishing them with some split shot about 18" above the fly and two strike indicators about 5-6 feet above the fly. They let the fly sink to the bottom and then twitch it so the fly acts like it starts to emerge.
Owen trying to entice a rising fish
Bob just releasing a fish
After my lunch and a nap, I returned to the river about 3:00 and tried John Heaney's technique. In the next hour I caught 2 rainbows and had several others strike or chase the fly. At about 4:00, I caught up with Bob Dietz just as he was releasing a fish. We fished the same pool we had fished last year and were joined a little later by Owen Dietz. Bob managed to catch a couple on a partridge and orange. Owen netted a bullhead catfish and had seen a second one. We saw a few green drakes, some very light yellow sulphur spinners, a few light cahills, a couple of slate drakes, and some caddis. Bob also saw a coffin fly (green drake spinner) based on its size. However, after an hour or so of very little activity, we decided to move down stream to see if there was any activity there. We sat there for a while observing a rusty spinner, a large stonefly nymph, some midges, and a few light cahills before noticing a few rising fish. Bob ended up landing several fish in this pool including a nice brookie (photo below on left). The last 2 fish he caught took a slate drake. I had one on briefly on a sulphur dun and that was it. I spent a fair amount of time fishing the riffles below this pool. There were a fair number of light cahills in the air but my light cahill and white fly comparadun didn't produce anything. For about 10 minutes before quitting at 8:45, there was a fairly heavy hatch in the riffles in which I saw only one rise. I wasn't able to identify what was hatching.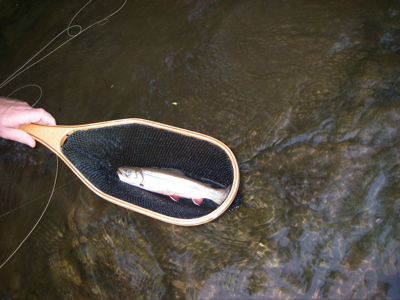 Bob's nice brookie
We met back at the hotel and went to dinner at Clinton Station, a restuarant where the special is a 50 lb. hamburger! The total weight with bun and everything is over 100 lbs. Since they offer a $5000 prize for any 10 people that can eat it in an hour, Owen was thinking of forming a team to take the challenge. Needless to say, none of us ordered this special.
Ken's Brown
The next morning, I fished the South Branch in the same area for about 1.5 hours landing 1 brown on top with the LaFontaine caddis (photo at right). The stream was much more crowded than on Saturday and since there wasn't much insect activity, I quit about 9:30 and decided to try the Little Lehigh again on the way home. On Friday, I thought I may have missed some strikes on the griffith gnat because I couldn't see it very well. As such, I tied on the #18 sulphur and the #20 griffith gnat as a dropper and landed 1 brown and lost 3 others while still missing several strikes in about an hour of fishing.
I missed Bob and Owen who fished the South Branch for about 1.5 hours after I had left. Bob landed a nice brown on an ant and missed several more. Owen got looks at every single dry fly he tried but no takes. The fish were being very fussy. They fished the Tulpehocken in Reading on the way home. There was a tremendous amount of caddis activity going on, but not many rising to it. The stretch they fished was overrun with poachers; that may have had something to do with it. Bob caught a bluegill and a smallmouth; Owen broke off several large carp. They got washed out by a thunderstorm after about an hour.
We were disappointed that nobody else from PPTU showed up for this outing.
Ken Bowyer