Last Updated: 20 September 2018

20 September 2018
June 6-7 , 2009 Outing Report.
South Branch of Raritan in Ken Lockwood Gorge
George Vincent, Steve Fletcher, and Ken Bowyer left early Saturday morning for the drive up to Clinton, NJ for the weekend outing on the South Branch of the Raritan at Ken Lockwood Gorge. We stopped at Cabela's near Hamburg, PA for an early lunch. This was Steve's first visit to Cabela's and it was like a kid in a candy store for him. We managed to get Steve out of there after only buying some shirts and fly fishing stuff.
After checking in at the Courtyard Marriott in Lebanon, we arrived at the lower entrance to Ken Lockwood Gorge (KLG) near High Bridge at about 2:30 PM. We spotted 3 fisherman with hookups during the drive along the river. When we reached the parking lot just downstream from the Trestle Bridge, we noticed Bob Dietz's vehicle was parked there so we assumed he was already fishing. We were pleased to see that the river was off color some but very fishable after receiving an inch of rain the previous day. The flows were at 178 cfs when Ken woke up at 5:15 AM but had already dropped to 170 cfs at 6:45 before leaving to meet up with George and Steve. The median flows for this time of year are in the range of 84 to 92 cfs. The access road for the upper half of KLG was still closed after part of it was washed out during a spring 2007 storm. A fisherman that just came out of the river at the parking lot said bead head nymphs and san juan worms were working but there wasn't much activity on top.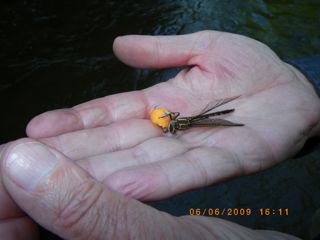 The Egg Sucking Dragonfly!
One of several browns we caught
While we were suiting up, George caught a large brown stonefly (perhaps a size 10). We should've taken a photo of it as it compared in size to the larger stoneflies observed out west. After suiting up, George decided to fish right at the parking lot (he knows where all the fish are as he had fished this pool heavily on last years trip) while Ken took Steve up stream to search for Bob Dietz. We found him a little ways past the Trestle Bridge pool as he was just releasing a fish. He had driven up the night before in the rain and had also been concerned that the river may not be fishable. He had started fishing about 2 hours earlier and had landed 3 fish thus far using a Mr. Rapidan with various soft hackle flies as droppers. He was going back to the parking lot to eat lunch so Steve and Ken took over the pool he was fishing. In about a half hour or so, Ken landed a brown trout on a #16 bh pheasant tail nymph. He also had a brown smash his orange strike indicator. Steve and Ken moved down to the pool just above the island. While still fishing with the same setup, Ken had another brown trout smash his strike indicator so he tried an orange elk hair caddis (a strike indicator fly!) and an orange sulphur dun without producing anything. Then, he switched to an orange glow bug treated with dry shake so it would float and produced several refusals. After fishing this for about 15 minutes, he thought he had some grass or straw on the glow bug so he brought it in only to find a dragon fly attached (it's probably illegal to fish an egg sucking dragon fly when the dragon fly is still alive!).
Steve and Ken then fished the deep run near the top of the island where Steve had some hits on a Patuxent Special and a woolly bugger while Ken had strikes on a black stonefly nymph but neither was able to keep a fish on for any length of time. Ken saw a couple of big stoneflies (maybe brown like George had caught at the parking lot) in flight during this time. At about 5 PM, we headed back to the parking lot for some water and snacks.
The Large Yellow Stonefly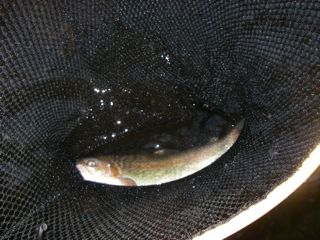 One of the rainbows we caught
For the last two hours or so we all shared the same pool, and lots of fish were caught, on everything from PT nymphs to March Brown emergers. Even more fish were hooked and lost. There were plenty of different kinds of bugs (sulphurs, light cahills, March Browns, slate drakes, various caddis, and a few yellow sallies (#14), but not really a lot of any one kind. The most obvious insect was a large (#8 at least) stonefly. George managed to catch one and reported that it had a yellow underside. It was too big to be a golden stone, so Bob's guessing it was an eastern relative of the salmon fly (pterynarcys sp.). It was fun to watch the birds pick them off in mid flight. Ken managed to catch a rainbow on his old reliable bh brassie and George caught a brookie and a brown trout during this time.
Bob landing a fish
Bob, George, & Ken fishing
The highlight of the evening for Bob (or least low of the many low lights of losing fish) was having a fish completely around him while trying to net it. At one point, he was playing it behind his back. He did eventually get that one in the net.
The sulfur hatch/spinner fall started about the time it was almost too dark to see. We managed two or three fish between us during the last 5 minutes.
Nobody got the hat trick this year -- a brook, a brown and a rainbow, but we did between us. One of the numerous fish that Bob managed to lose with leader inside the guides and net out was the rainbow that would have completed his. As Maxwell Smart used to say "missed it by that much. Would you believe ..."
As in past years, we went to Clinton Station for dinner where the proportions really are gargantuan. Plus, we're happy to report that in addition to their 50 lb burger, they're now offering a 256 pound burger (we're not kidding), which they claim is the world's largest.
On Sunday, while George, Steve, and Ken headed home, Bob went to a "Traditional Fishing Day" that the local shop was sponsoring. It was mainly an excuse to cast lots of different cane rods, which he did. No admission and free food and beer. What was not to like?
Like last year, Bob came home by way of the Tulpehocken in Reading. Like this time of year every year, there were fish rising all over the stream, with about 6 different species of caddis hatching/ovipositing. He managed one fifteen inch rainbow on a soft hackle, and a few refusals to an elk hair caddis. Someday, he's going to figure out this hatch.
The following is a short video of this outing.
June 09 Outing Ken Lockwood Gorge from Ken Bowyer and Steve Fletcher on Vimeo.
Ken Bowyer and Bob Dietz