Last Updated: 06 September 2018

06 September 2018
Catskills Outing Report
Where: Catskills - Roscoe, NY
When: May 31 - June 3, 2018
Stayed: Rockland House Motel
Participants: Bob Dietz, Lou Reichel, Bob and Priscilla O'Donnell
Summary
Even after reading rainy weather and high stream flows the trip weather was excellent. The weather ranged from slight drizzle for a few minutes to overcast skies to sunny blue skies. The stream flows were just right. For those who cancelled missed out on a great trip. Everyone caught trout. Had good hatches of large March Browns, some Sulfurs and Cahills and Brown Caddis at night. Fished the Beaverkill and mostly the Willowemoc. This area is known as the Birthplace of American Dry Fly Fishing and where the fly fishing founders like Theodore Gordon and others fished. It's a trip that should be repeated in the future.
Daily Report
Leaving Maryland around 6:00am and arrived to Roscoe NY around 12:30 pm. Stopped in Beaverkill Anglers for fishing reports and bought some March Brown emergers and dry flies in size 12-10. Started fishing on the Willowenoc near the Power lines, below the Fly Fishing Museum. Priscilla O'Donnell started us off with a hook up in the first 2 minutes and shortly afterwards Bob O'Donnell had a catch. March Browns were rising. Bob Dietz, using multiple soft hackles (March Brown, light Cahill and Partridge and orange soft hackles) caught 4-5 brown trout and brookies. Near dusk we went to the Cairn's Bridge hole on the Beaverkill. Near dusk there was a large brown Caddis hatch. Again, Bob D caught a couple brown trout.
On Friday, met Josh Loh, former member of PPTU who now lives in NY, showed us his secrete spot on the North Branch of Callicoon. Priscilla again started us off with a hookup. Lou finally caught 3 browns. The largest was caught on a March Brown dry fly (#10) in the back and shallow part of a pool. Latter we went back to Willowemoc between the Museum and the Power Lines. At dusk revisited Willowemoc near the Power Lines (favored place) and Bob D caught more brookies.
On Saturday we visited the Fly Fishing Museum. Later we fished upper Beaverkill at the Beaverkill Covered Bridge. The stream was crowded. Watched Cedar Waxwing birds fly around and catch March Brown duns in the air. Some March Browns that were attacked by the birds but couldn't hold on to dropped to the water and then watch the trout take the wounded mayfly. Bob D started upstream in the riffles and caught a large brown trout (soft hackles), many of the fishermen that had been previously there were watching this new guy catch trout. Bob D moved closure to the bridge and it was a pleasure to watch Bob D casting 40-60 feet using a double haul to a pool across the stream with rising trout. Within a few minutes Bob D had another trout.
On Sunday it was raining, and some of us were a little stiff from fishing last 3 days, so we decided to leave for home. As we traveled a few miles down the road the day was clearing. When we got back home to Maryland it was raining very hard.
Over all it was a great trip.
Lou Reichel
Outings Coordinator
Trout Town USA
Sunny day on Willowemoc on day thunderstorms predicted. Upstream of Power Lines.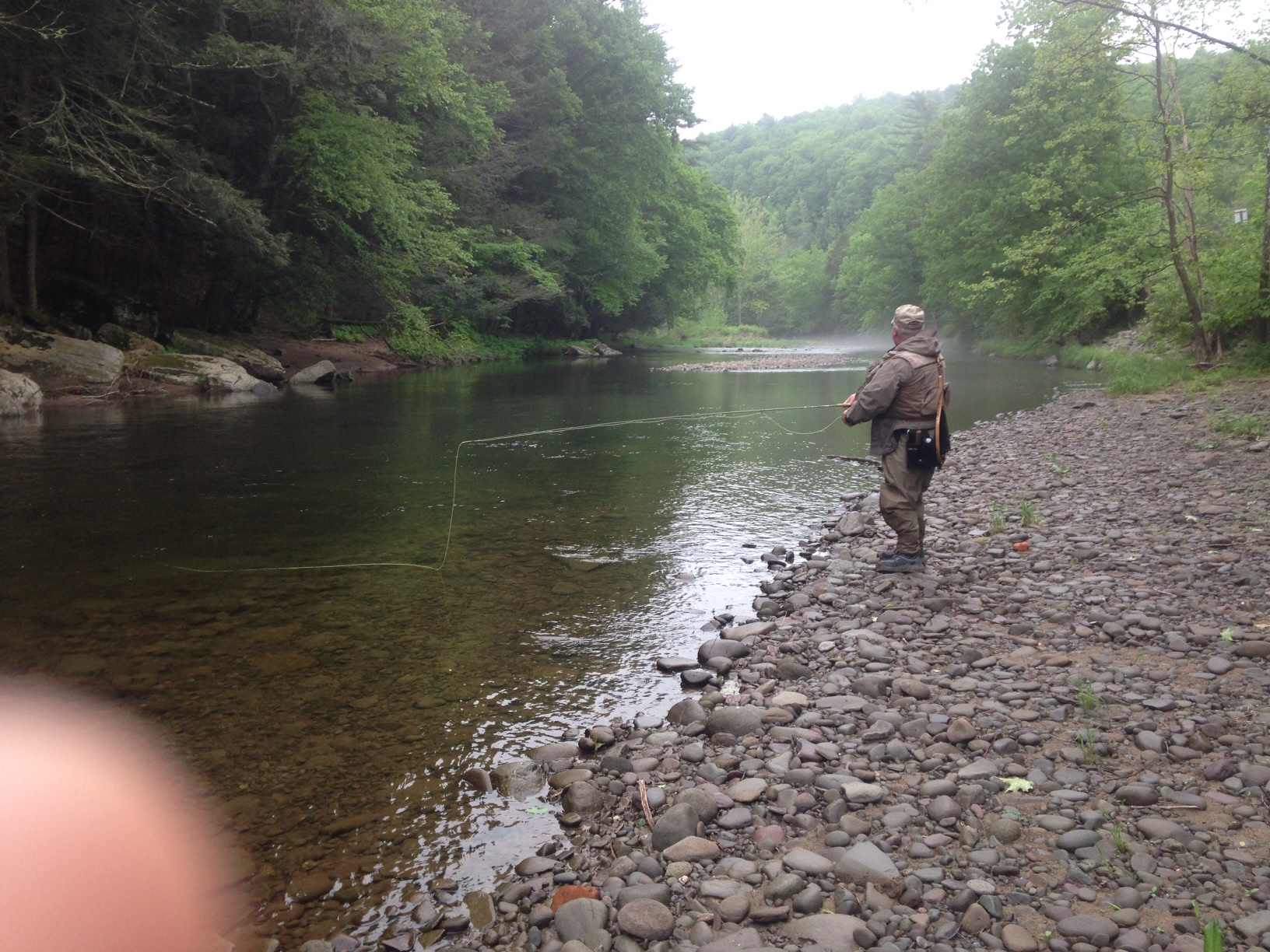 Lou easily distracted and not watching dry fly on North Branch of Callicoon
Typical trout caught by Lou on North Branch Callicoon
Bob O'Donnell trout on Willowemoc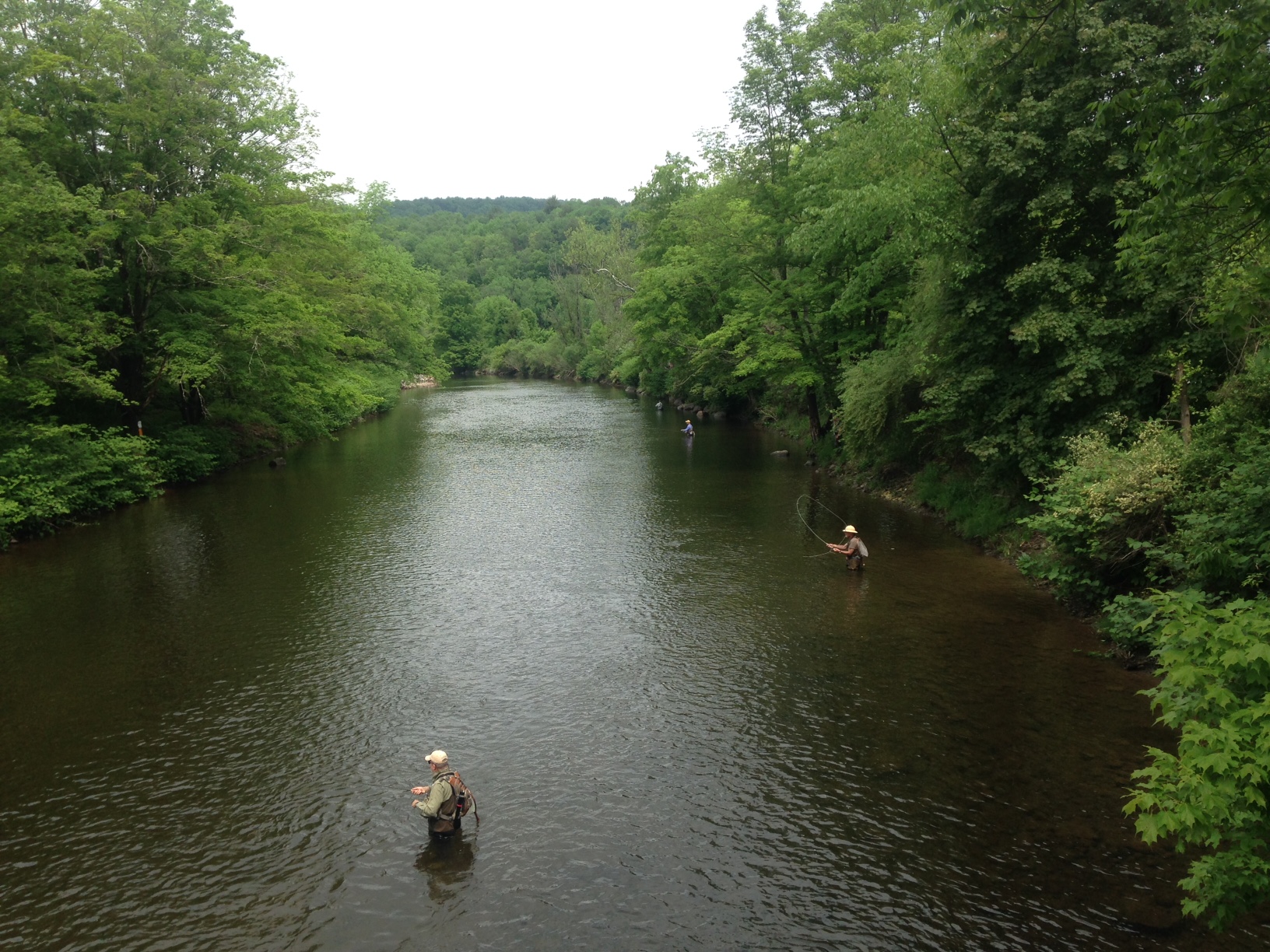 Upstream from Museum bridge on Willowemoc.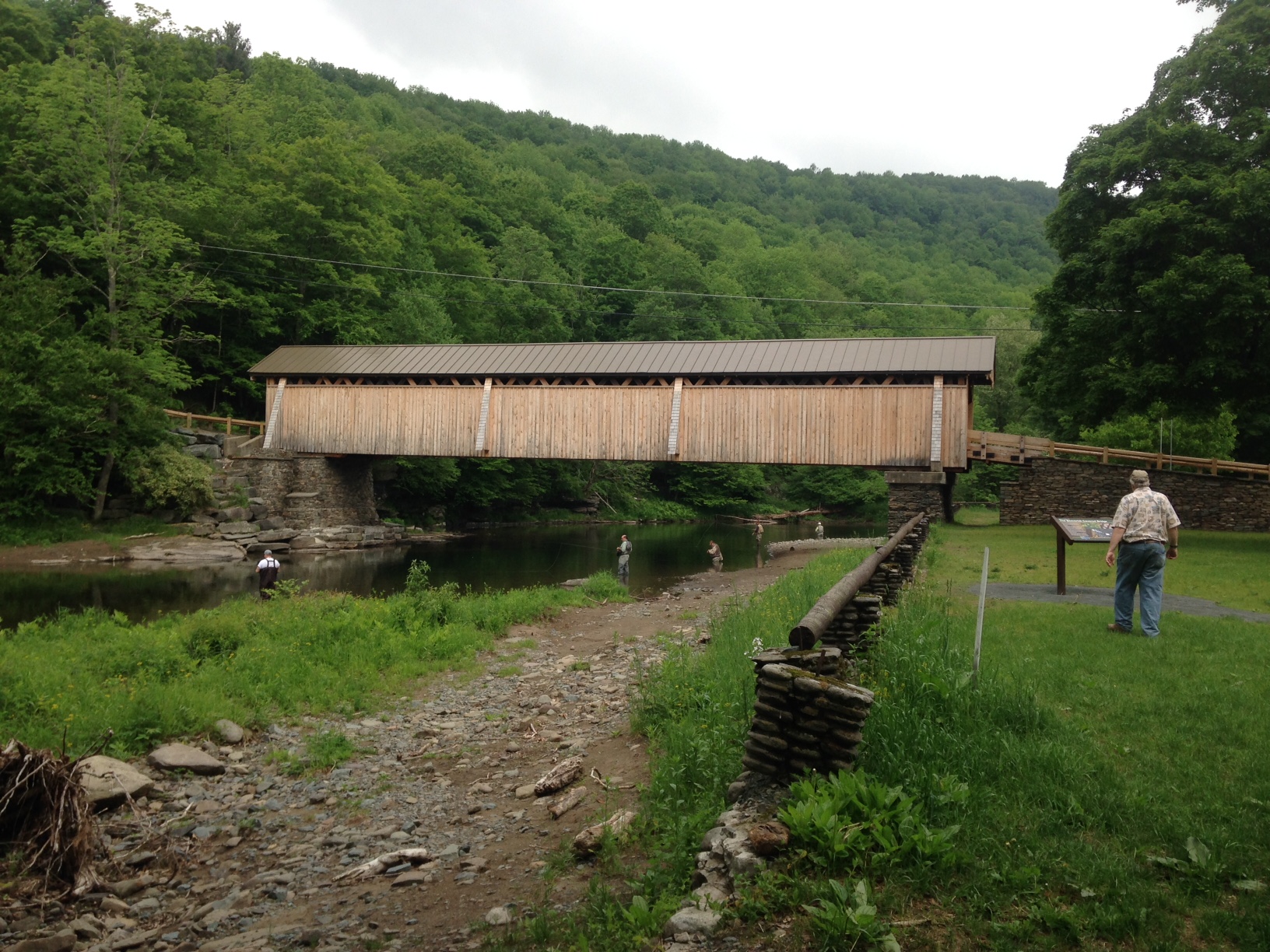 Beaverkill Covered Bridge where Theodore Gordon fished. Bob Dietz checking it out.