Last Updated: 17 September 2018

17 September 2018
November 2007 Outing Report.
Erie Steelhead
Stowing our gear in two vehicles, Will Amland, Ken Bowyer, Tim Bowers and I rolled out 5 am Sunday heading North West for Erie, PA. Two hours later we pulled into the diner at Breezewood for breakfast hoping the fog would lift. Instead, it thickened to a soup while we ate and stayed with us until late in the morning to almost interstate 79.
Once the fog did clear the hillsides lit up with bright sunshine the trees still having surprising good leaf cover for this far north this late in the year. Past peak, the colors were somewhat subdued, a mixture of deep reds, brownish greens, dull yellows and oranges. Still quite beautiful making the distant ridge lines meld into a rusty olive that Ken and I thought would probably make a good nymph dubbing color.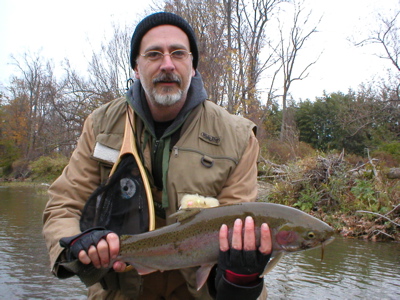 Will's First Steelhead Measured 23"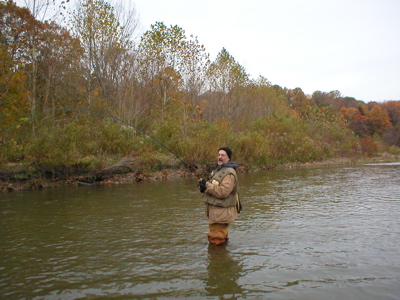 Will Has The First Hookup
Arriving just after noon we checked out Folly's End before heading down to the mouth of Elk Creek. It was chilly; temps had risen throughout the morning from 30 to 42 degrees but were now heading back the other way. We pulled on our gear in the parking lot in a light drizzle turning up our collars against a good breeze. On stream the water levels were much better than expected. Knee deep in the deeper runs and stained enough we couldn't see the bottom. We spread out between the first two bends fishing the three and a half hours till dusk producing only one fish, a fat twenty three incher that Will talked into taking his brown wooly booger as he worked it along in the deeper water close to the bank
Next morning Tim and Will went on ahead to Folly's End while Ken and I suited up in the motel parking lot. I was telling Ken about my routine of keeping track of the keys by always having them either in my pocket or in my right hand before locking the truck. Waders and boots on, I rolled back the bed cover and snapped it, then couldn't find my keys. In the next 20 minutes we unloaded the cab of the truck twice, looked under the seats, under the truck and took off my waders going through all pockets of everything. Then we just stood there; no ideas, when Ken raised the tailgate saying "here they are." my keys laying on the bumper right where I set them before lowering the tail gate to snap the roll back. Good god….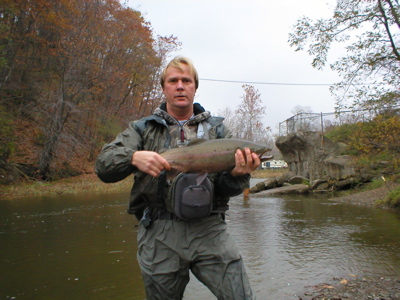 Tim's First Steelhead
Tim's First Hookup
Catching up with Tim and Will at Folly's, I had Will's rod in the truck, but Tim was rigged and ready to go, we found him a little later on the pool behind the tackle shop already into a fish. The rest of us waded fishing downstream for a couple of hours in water that was low and clear. Not seeing many fish in the runs and the ones we did see were spooky had us changing locations to below the Conrail tubes. There were definitely fish here; a couple of guys with spinning and bait tackle were really tearing them up in the big pool below the tubes, Will and I headed down stream 100 yards into the riffles and small pools next to the bank each of us hooking up and losing a fish before moving up to the pool to join Ken and Tim when things began to look a little less crowded. Fish were piled up the length of the pool and at the lower end we could see a couple of dozen holding mid column.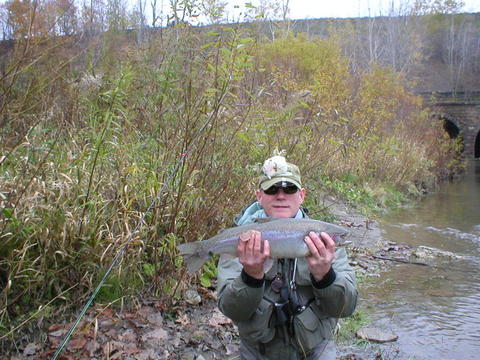 One That Dennis Caught
I'm a novice at this steelhead fishing, but what seems pretty common to these steelhead is on the hook set they just sorta hunker down, power up, and explode. Hot doggies!
We spent the rest of the afternoon there, Tim landing three more working his crystal meth deep through the head of the pool, me taking a couple at the tail, one on sucker spawn the other on a hot orange egg.
Will At 20 Mile Creek
That evening as we made our way back to the trucks it began to rain. The weather report was only calling for sprinkles but on our way over to the Outback for steaks after unloading out gear at the Inn it was flat out raining. Checking the Elk the next morning at the tubes, we met guys on their way back out shaking their heads, too high and muddy. We loaded back up and headed for Twenty Mile Creek on the New York border, getting there we were met with guys at the pull off saying it was barely fishable. Needing to see for ourselves we rigged up and hiked in but barely fishable proved to be an overly optimistic assessment in our opinion creating a moment of indecision that almost ended the trip.
From the reports we had it takes at least a day for the streams to clear up, and we were leaving in the morning. Standing there next to the stream watching leaves and other debris swirl in the chocolate froth there was talk of just going home. We still had the option of looking at Sixteen Mile Creek, but that venture seemed to be going south as well. Back at the truck I took my waders off, but then regret began to sweep through the group about not at least checking Sixteen out before heading back to the Inn to check out, so off we went to have a look.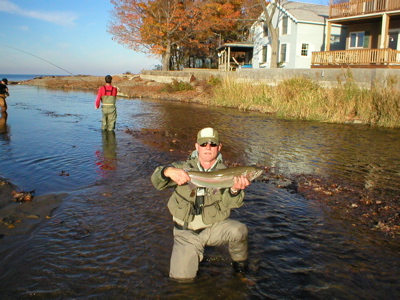 The Lunker That Dennis Caught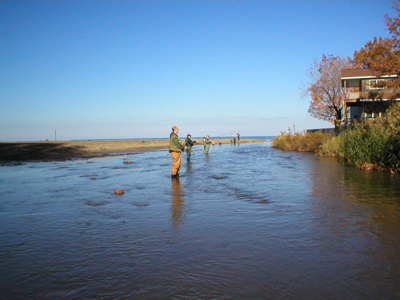 Will, Ken, and Tim at 16 Mile
What a mistake leaving would have been. Taking up positions just up from the mouth within 100 yards of the lake, the guys closer to it began sticking fish with the action heading our way. Tim, closest to the mouth, got into a couple and we all kept sliding down stream when ever a hole opened up in the line. A guy from Indiana just down stream of Tim definitely had the best location. I don't think it an exaggeration to say he landed 15 plus, maybe even twenty fish that afternoon before just going up and sitting on the bank leaving his spot to his buddy who had previously been kept busy netting fish for him. Tim shared the wealth with the rest of us letting us rotate in and out and we all got into fish landing several. We even worked out a lunch schedule; Tim and I going up first to cook and have a potty break then back down to let the other two go.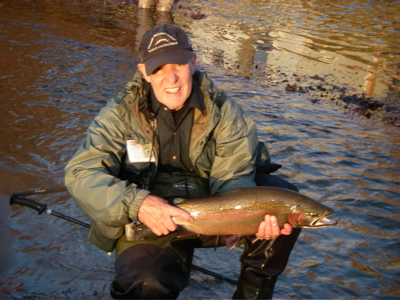 One Of Ken's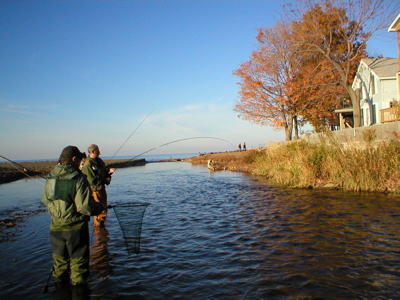 Will Fighting A Leaping Fish
Of all the leaping fish we saw, one of Ken's was hands down the most spectacular. After that little hunker down and power up maneuver I mentioned earlier, this fish took off on a screaming 35-40 yard run in a series of four or five down stream leaps that culminated in a high leaping somersault spraying water high in the air on re-entry. Guys up and down the bank were whooping and cheering, maybe for the fish, and Ken, who was just holding on and rocking foreword a little with every jump while the fish peeled off line let out a little "OOoohhh…." Thinking he just lost him when the line suddenly went slack as the fish hit the water, followed by a look of stunned disbelief when we all started yelling "you still got'im! You still got'im!" then quickly ramped back into action recovering the slack line getting him back on the reel. Smiles don't get any bigger than Ken's when after several more minutes of give and take he finally had that fish in the net. What a great day! Lots of hookups, everybody landed fish, everybody happy.
Tim Fighting One Behind Folly's Shop
We finished up Wednesday morning at Folly's, fishing until about 10 am before packing it in and heading back home. Tim, who was definitely the hot rod of the trip, was into several more just below the tackle shop. Ken and I waded down stream where Ken spotting a large pod of fish moving up through a long riffle. Ken, catching fire Tuesday and fast approaching Tim's count hooked and lost three before I noticed him waving me up from the pool below. Light blue crystal was what they wanted but they turned off that in a hurry. In the next hour I managed to hook-up and quickly lose one on sucker spawn, Ken losing two and landing two on white crystal, landing one of them running through a riffle, rod in one hand net in the other while I snapped his picture as he scooping him up.
Before leaving I stopped fishing just to look around. This is a beautiful place in the fall. The trees still had lots of color on the bluffs above the creek, and standing mid stream I watched those dark shapes moving through the riffles and pools. The whole scene had me not wanting to leave, but……
Dennis Caught This Mighty Sucker
We all landed fish, I think 17 or 18 total with at least twice that many hookups lost. All fish landed were between 22 and 26 inches except for my mighty sucker on the last morning, Ken coached me in landing it. There were no hot flies other than maybe pink crystal meth on Sixteen Mile Creek Tuesday. Tuesday night at dinner, we took a quick show of hands voting Erie the 2008 November outing destination, so, start planning now boys & girls.
I think another thing well worth mentioning was the good etiquette everyone was showing along the creeks we fished for the entire trip. Often we would be fishing in tight, not only with other fly fishers, but bait and spin fishers as well. Getting tangled up with each other from time to time, and I never once heard an unkind word from anyone. On Sixteen Mile Creek when someone would leave guys would stop fishing long enough to say; "good fishing with ya" or "see ya next time" or asking guys where they were from. We were all really impressed with everyone's streamside demeanor and especially the courtesy and sportsmanship those Pennsylvania boys were extending to us non locals.
Additional photos from the outing are posted below.
Dennis Covert
Outings
| | | |
| --- | --- | --- |
| Elk Downstream At Folly's End | Ken Downstream at Folly's | Elk Downstream From Conrail Tubes |
| 20 Mile Near Middle - Hirtzell Roads | Can You See Will's Leaping Fish? | It Took Teamwork To Land These Fish |
| Another One Dennis Caught | Another One Will Caught | Another One Ken Caught |
| Mouth Of 16 Mile At Lake Erie | Sunset At 16 Mile | Ken & Dennis Admire The Mighty Sucker |
---