Last Updated: 19 September 2018

19 September 2018
November 2012 Steelhead Outing
Right after the chapter meeting on Wednesday evening November 14, Bob O'Donnell, Carl Smolka, Dennis Covert and Ken Bowyer left for Erie to do some steelhead fishing. From the .7 " of rain and 1.2" of snow that fell in the area on Monday evening and Tuesday, we were hoping for better fishing conditions than we had encountered in the past couple of years. After an hour snooze on the PA turnpike and breakfast south of Erie, we arrived at the middle section of 20 Mile Creek around 8 AM on Thursday morning. On the drive up, the temperature reached a low of 22 so it was still pretty chilly as we suited up. There were about 9 or 10 other cars parked along the tomato field. Hiking down to the stream, we found the flows were up from last year, however there were fewer fish. Several places that had fish last year were void of fish this year and they were picky. Bob, Carl, and Ken all found fish on the hike downstream and each stopped to fish them for a while as Dennis continued the walk almost to the no trespass wire. Eventually, all of us were fishing the 2-3 pools just above the wire for the rest of the day. We all had hookups but it was slow except for a brief time at midday when Dennis landed 2 with a pearl bead rig that Jon Griffiths demonstrated at the October meeting. He had us all changing to pearl bead rigs, but that didn't help us any. By late afternoon, we were all red eyed and a little hunched over from fatigue but still chucking flies. We finally retired to an early dinner at Torero's Mexican Restaurant and bed by 7 - 8 PM.
| | | |
| --- | --- | --- |
| Carl's with a White Wooly Bugger | A Perspective of Elk Creek | Sandy's Changes to 20 Mile Inlet |
Pearl Beed Hookup on 20 Mile Creek
Friday morning, with eight hours of recharge and bolstered by huge omelets from a local eatery, we were ready to hit it again. We went to Elk planning to fish at Rick Rd. (Dennis and Ken fished there a couple of years ago on the last day of a trip and found fish). When we got there, Elk was lower than 20 Mile and we saw no fish at the bridge so we decided to check it out at Follys End. Dennis and Ken hiked down stream to the wire and only found fish in two pools, both of which were occupied. The latter pool by a couple of grumpy young fella's trying to shout off anybody who got too close. We don't see that too often in PA as most of the guys in Erie are pretty mellow compared to some other places we've fished. On the way back up after finding no fish, we saw a guy move in between these guys. We heard one say they were fishing there, and him reply its public water, and it looked like the new guy had dropped anchor. The section where most of us caught fish just down stream and around the bend a few years ago was void of fish! Carl and Bob went up stream and found a pool with one other person where Carl landed one on a white woolly bugger and Bob had a hookup. Dennis and I went back to 20 Mile and hiked in at the pond in the middle section. Dennis had a hookup just downstream from the I-90 bridge and was fearful of losing his fly line as it took him under a clump of tree branches. Eventually, he was able to reel in line before the fish got off.
| | |
| --- | --- |
| Dennis at 20 Mile Creek | Another Dennis at 20 Mile Creek |
Then, we went down stream about 1/3 mile just around the bend where a long pool had plenty of fish and nobody was there. Dennis and Ken fished it from about 10 AM till 4 PM. Ken had 4 hookups and Dennis had one but all were lost. Dennis was fishing with a swivel at the end of his leader and lost his lunker because the swivel snagged on a rock! Carl and Bob checked out the mouth of 20 Mile and found the mouth was blocked making it difficult for fish to enter from the lake. They also hiked upstream from the I-90 bridge finding no fish where we had been last year. That evening, we met Bill Goldner and his friend Paul at the Texas Roadhouse for dinner. They had fished Elk near the mouth in the morning where there was little activity. Later, they went to the Legion Pool on Elk and hiked upstream where they had a pool to themselves and fished the rest of the day with Paul landing his first steelhead on a fly rod.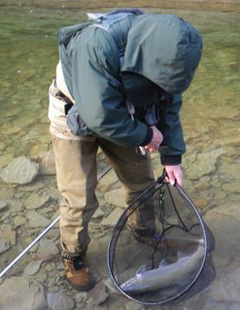 Ken Salvaging Flies
Saturday, the 4 of us went back to 20 Mile arriving at the pond just before sunrise and insuring we would have control of the pool Dennis and Ken had fished Friday. Bill Goldner and his friend Paul joined us later. Ken had 7 hookups and landed 2 including an 8 pounder. This was the first fish he landed and besides removing the blue egg from its mouth, he and Bob removed two other flies from it's body. Dennis landed two, Bob landed 1, and Carl landed 1 for the day. We quit between 1 and 2 PM as things had shutdown midmorning.
Flies that worked on this trip; green bh brassie, pearl and blue beads, white woolly bugger, chamois fly, patuxent special, orange san juan worm, blue egg, and white crystal meth. We tried on the order of 2-3 dozen other flies during that didn't work! The photos on the website with this report are compliments of Carl Smolka. It was tough fishing but a fun trip for all.
Dennis Covert & Ken Bowyer