Last Updated: 17 September 2018

17 September 2018
October 2007 Outing Report.
Campout at Big Run State Park in Western Maryland
Cruising through Lonaconing 5:30 Friday morning, we noticed the time and temperature sign hanging outside the funeral home on Route 36 was flashing 59 degrees. Last year on the same outing only a week later in the month, it was sporting a frosty 27.
Tim Bowers and I rendezvoused at the McDonalds in Westernport before heading to Barnum and took full advantage of the hundred mile rule, savoring two of the four essential food groups of a fishing trip, grease and caffeine. Heading over the mountain to Barnum we spotted a couple of deer, one a young six point buck, beyond the headlights that illuminated foliage that seemed way too green for this time of year.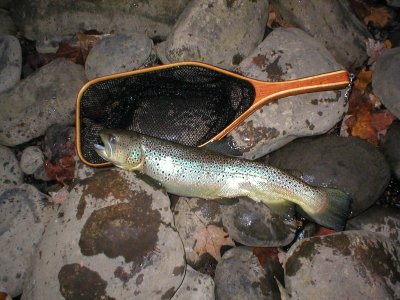 Dennis' 20" Brown
Several cars already in the parking area at Barnum had us rigging up as fast as we could in the dark trying to get to our favorite run before somebody else got there first. I was off a little ahead of Tim and stepping into the river while it was still a little darker than light and at 180 cfs found it comfortable wading. Tim not far behind soon joined me and we proceeded to drift small egg patterns through the slots and worked the edges near the Maryland bank. Forty minutes slid by before the first take and at first I thought I was just snagged up again, but when I raised the rod to free the egg I felt that slow throbbing head shake that told me it was a good fish. After a couple of hard runs I worked the fish in to slack water and netted a 20 inch hen brown. Heavy, she lacked that obvious full of eggs look that makes me think we are still a few weeks from any serious spawning activity. After hooking and losing another brown, the following hour of inactivity had us turning our attention up river in hope of better water.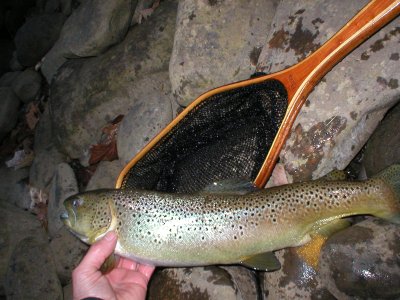 Dennis' 19" Brown
Finding a shallow place to cross half way to the upper wire we hiked up to the stair case pools and found only two other anglers there. Tim changed to a hopper and started to work the pockets, while I stubbornly clung to my egg pattern. This time however, stubbornness paid off and I was soon fast to another brown streaking off 30 yards down stream before diving under a rock. At first I thought he snagged me up and was gone, but after banging on the rod handle a couple of times he shot out and headed down stream again before giving up and me sliding the 19 inch buck up into the shallows. He manage to even things up a little by biting my thumb while I removed the fly, those little teeth are sharp! I was feeling pretty good by this time, not quite lunch yet and I already had a twenty and a nineteen! After adding a ten incher to the count I was off to find Tim and lunch.
On our way back to the truck for lunch Tim said he got a brown on a hopper. Ken Bowyer and Steve Graves were standing next to the truck when we got there. Tim and I pounded down burgers and dogs while giving them a rundown on the morning events then headed back for the river. My fishing may not be any more innovative but I continue to find new ways to fall down. This time I took a header off the bank above the river, putting some deep dents on the rod near the handle and another memory mark on the reel. For a clumsy guy like me it's good to have a fishing buddy like Tim around because he immediately starts making excuses for me; "you know…when it's been this dry for this long even these rocks up on the bank get pretty slick".
Ken and Steve were already there so I joined them by lower wire, while Tim put his hopper back on and started working the pocket water up river. The weather had been clear all day as was the forecast for the entire weekend, the temperature rising to the low eighties by mid afternoon. Pockets of warm air several degrees warmer than the prevailing air temperature floated down river feeling very strange and making Ken and I look around and wonder what was making them. Ken was the only one of us three in the lower section that had any action, landing a fourteen inch rainbow and losing another on a prince nymph. Around four o'clock Ken and Steve left to check in at Savage River Outfitters where they were staying. Deciding maybe we should think about heading out to make camp, I started hiking up river and found Tim coming down. He said he been slowly working his way up stream fishing the eddies and pockets with hoppers and beetles and picked up four more fish, two browns and two rainbows.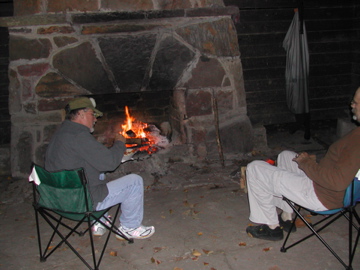 Dennis & Will in front of Campfire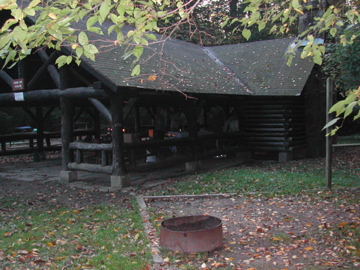 Monroe Pavillion at Big Run State Park
At the Pavilion we found some tents already up but no one home. Will Amland who belonged to the red tent soon pulled in, saying he had been fishing the Savage and finding it pretty tough, but did manage one good brown about fourteen inches on a blue winged olive. Hopping into my truck we all went on a firewood and beer run. When we returned Sam Croker, a fishing guest from South Carolina, had found the pavilion and was hanging out hoping he had found the right camp site. Soon after, Jay Sheppard and Patrick Massler rolled in. Jay and Pat went up a day early getting there on Thursday, fishing the Potomac first at Piedmont, then moving on to Barnum. Pat reported taking a couple of smaller browns on a hot pink egg and losing one of those large brown torpedoes on a brown and white Clouser. Jay said he thought he had seven or eight fish, a mixture of bows and browns on renegades and San Juan worms. Friday they fished the Savage. Patrick did well taking three nice browns, a fourteen, a thirteen and an eleven all on Chartreuse San Juan worms. Jay left mid-afternoon Saturday but told me later in an email that altogether caught a dozen or so fish on the Savage a mixture of browns and brookies. He said the fishing was tough going down to a 7X tippet and flies down to #24. Evening coming on, we bantered back and forth amid the sounds of grills and lanterns being fired up. Soon, we had steaks on the grill and a fire in the hearth everything feeling quite homey. Later that evening as the rest of us lounged in front of the fire Jay and Patrick were pouring over a steam map by lantern light on a picnic table that was attracting a bevy of large caddis flies in sizes of about eight or ten with cinnamon bodies and blond wings. I took a few pictures then the sand man chased us to our sleeping bags.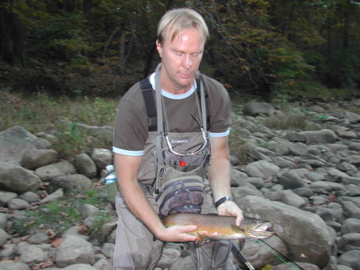 Tim Bowers 20" Brown
Saturday morning, the tent group decided to fish the lower Savage. We spent the morning catching a few brookies, spawning colors not quite ripe but getting close. Chartreuse San Juans counted for most of the catches I think. Then we were all off to the North Branch. Meanwhile, Ken, Steve Graves and Steve Fletcher (the Chateau group) were already at the NB. Ken said he had good rainbow on crystal meth that managed to elude final capture; both Steves sticking a fish as well. By the time we got there after lunch the heat was on and reaching somewhere close to 90. By the time I waded across and hiked up to the upper section sweat had me shedding clothes. My eggs failed me this time and when I waded out into the pool whose runs this time of year are normally stacked with fish were empty. Pat and Will were fishing the pool close to the wire and Will working a beetle close to the bank closed the deal on a fat 16 inch brown. Will, Pat and I stayed till dusk but the fishing was slow. When we hiked back down the trail to the lower wire we ran into Tim and Sam. Sam told us Tim had just landed a 20 inch brown on an egg. On the drive back to camp we saw Ken out in front of the Chalet who told us that the NB flows were going up to 440cfs and the Savage to 110cfs at 9 am. That was a little bit of a shock, and ruined our plans to fish it again early Sunday.
Sunday we broke camp before heading to the river. Pat, Will and I headed down river just up from the Savage River Outfitters where the other guys were staying. By the time we got there it was only about an hour before increased release. Pat took a brown right away, and had two more by 11:00 am. Will and I couldn't buy a strike. I met Ken at the big pool behind the château. I weighted a floating beetle 6 inches off the bottom and drifted it the full length of the wall, but no takers. A little Later Nick Weber, who had just recently arrived and was staying at the Chateau with Ken, popped into view. I gave him a Chartreuse San Juan and bid him good luck, Will and I off to find Pat and head out.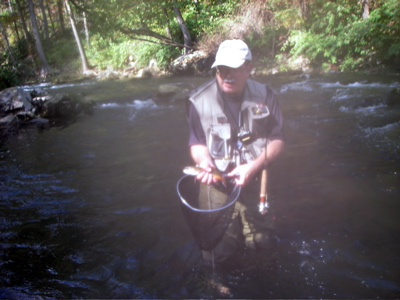 Steve Graves 11" Brookie
Monday the château group had a very good day. Getting an early start Steve F. went down to the lower bridge and picked up two browns, one on a caddis, the other on a blue winged olive, both in size 20. This news energized Nick and Ken, who headed out shortly. Ken ldrd a nice brookie and had a couple more strikes on a size 20 Parachute Adams. Nick got a hookup right after lunch. Steve G. caught an 11 inch brookie on a Pink San Juan worm at the PHD pool, a true trophy fish.
While the weather was a tad bit warm this year, it was still a little more enjoyable than the 20 degree temps of last year. There were some nice fish caught, several brookies in the 9-11 inch range and at least two 20 inch biggies out of the NB. Jay reported a 23 inch rainbow out of Beaver Creek on his way home. The October outing remains a crowd pleaser and we have already reserved the pavilion for next year over the Columbus Day weekend (October 10-12, 2008).
Sam and Dennis took several other photos during the weekend that are posted below.
Dennis Covert
Outings
| | | |
| --- | --- | --- |
| Dennis & Tim Wading NB | NB Flows at 180 CFS | Savage River PhD Pool |
| Tim, Pat, and Will at Campground | Pat and Jay checking out a topo map | Will starting the campfire |
| One of several Savage River Brookies caught | Fisherman upstream on Savage | Fishermen upstream on NB |
| Savage Below PhD Pool | Jennings Randolph Lake at the dam | NB at 440 CFS |
| NB at 440 CFS | NB at 440 CFS | Seneca Rocks WV on Sam's way home |
---